Rock Climbing
Mountain Design Rock Climbing

In recent years the adventure sport of rock climbing has become the fastest growing outdoor activity of all.Our rock climbing adventure trip will let you experience fun and excitement by giving you the maximum amount climbing activity with safety.
Beginner Rockclimbing
1 Day Rock Climbing Chiang Mai
Rock Climbing at Crazy horse buttress Sankampang Chiang Mai About 40 kms, east of Chiang Mai, Sankampang, well known for the limestone rock climbing which is 60-80 meters high. This mountain has the rock climbing routes for beginners up to the toughest level for the toughest Rock Climbers.
This mountain at Muang On, Sankampang Chiang Mai is the most beautiful mountain surrounded by magnificent tropical Nature and provides the best 140routes for Rock Climbing No Matter who you are, never been on one before or well trained and experienced Rock Climbers. Come to havefun with us. We provide transportation, Lunch, Shoes, Harness,Rope, belay devices, Carabiner, Quick draw, etc..
*** Joining Tour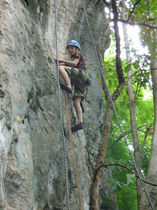 Intermediate Rock
2 Days Rock Climbing Adventure Chiang Mai
("The Hilltribe Climbing Park" - Chiang Dao)
Our 2 days trip at "The Hilltribe Climbing Park" will let you experience fun and excitement by giving you the maximum amount rock climbing activity in Chiang Mai and experience to stay overnight at the Hilltribe village.
The rock climbing trip will take you to "The Hilltribe Climbing Park" the newest rock climbing site in Chiang mai Thailand located next to the Hilltribe Villages.
Our rock climbing day will begins with an instruction in the fundamentals of basic rock climbing including: Equipment for rock climbing, knots, safety procedures, top rope climbing, real rock climbing techniques, belay techniques. This trip will bring you up to full basic rock climbing level and climb on several rock climbing routes.
Itinerary:
Day 1: - Meal code - (Lunch+Dinner+ Villager's hut )
M orning pick up from your Hotel and stop at the local fresh market to shopping the food supply and continue to Chiang Dao area (Stop at orchid farm or Elephant show on the way with you own expenses!!!). Continue drive to the Hilltribe village release all your luggages at the village and direct to "The Hilltribe Climbing Park" Short practice for rock climbing at a beautiful jungle site, spectacular limestone cliff .Begin rock climbing with a varieties climbing routes, stop for lunch (Picnic box). Get more exciting rock climbing at different route, try some hard climbing route. Evening, packs up gears and transfers to hill tribe village, relax around the village, Dinner will be cooked by our staffs and guide. After dinner rest at villager's hut.

Day 2: - Meal code: (B+L) Morning after Breakfast short transfer to rock climbing site start rock climbing at several routes. Stop for lunch (Picnic box), and continue climb until early evening, pack up gear and ride to visit the temple and big cave before transfer back to your Hotel in Chiang mai.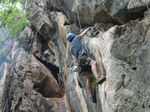 Advance Rock
3 Days Rock Climbing Adventure (Chiang Mai-Chiang Rai)
Code # MDC: 03 Program Itinerary: 3days - Meal code - (2B+3L+2D) (2 nights Accommodation)
Our 3 Days rock climbing trip will contain basic to advance rockclimbing techniques with in 3 days and travel to serveral climbing sites including
Basic rock Climbing, Abseiling
Top rope Climbing, Lead Climbing
Multi pitches Climbing
Traditional Climbing
Contact us for more details.
thailander_oz@hotmail.com
mountain-designs@hotmail.com
www.mountain-designs.com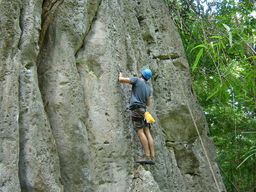 Guide Climb